----------------------------------------------------------------------------------------------------------------------
| Features | Downloads | Purchase | Contact Me | ----------------------------------------------------------------------------------------------------------------------
Audio Spectrum Analyzer for the Acoustic Specialist, Vibration Analyst, RF Engineer, or True Geek !


Fatpigdog's
Real Time FFT Spectrum Analyzer
Ultra-Pro


OR ... Consider
the Brand New
.
.
.


Excalibur Version






(Spectrogram of Diane saying Signal Labs, but then that's another story....)
Specifications - (Click Here)
* * * Now Faster than ever ! ( Much, Much Faster ) * * *
Dual Traces ( A and B )

Trace Normalization ( A norm B )

Trace Math ( A+B, A-B )

Customizable Spectrogram Color Maps

Save Captured WAV Files.

Save User Configurations.
Define Default User Configuration.
Capture display to a BMP Image File
LINEAR or LOG Frequency Axis.
Totally scalable Window - Squish it down to postage stamp size if you want !
Download Files Here
Make sure to checkout the wide variety of sounds (WAV files) available here FREE !!


Generate your own Image Spectrograms. Get up and running Now, FREE ! Get the QuickStart Doc too!
ATTENTION Windows VISTA & Windows 7 Users !!!

To run this program successfully under Windows Vista or Windows 7, you must run the program as Administrator. You can accomplish this by any of the following 3 choices:

Mark the application to always run as an administrator.

Also .....

ATTENTION 64 bit Windows Users !!!

To run this program under 64 bit versions of Windows, you must have the

Microsoft Visual C++ 2005 32 bit redistributatble

installed on your PC. Click Here to download the 2005, 32 bit VC++ redistributable from the Microsoft Download Center.


- - - - - - - - - - - Feature Summary - - - - - - - - - - -







Logical Control Panel

Control operation of Spectrum Analyzer through simple "pushbutton" controls.

Logical Grouping of related functions.

Functions just like Agilent or Tektronix Spectrum Analyzer.

Spectrum Plot - Detailed Display, with Soft Buttons
Screen annotation with important operating parameters including reference level, frequencies, markers, and threshold. In this screen, the user has selected the Peak function. On the screen you see the soft buttons for the Peak function. Note the red marker sitting on the peak and the frequency and amplitude indicated in the upper screen annotation.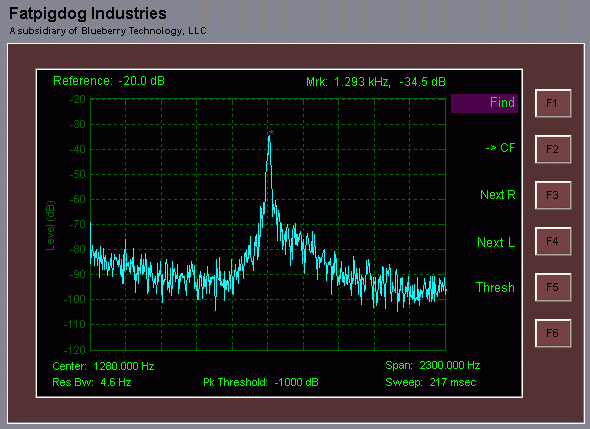 Dual Trace Math Operations:


Trace A-Write, Trace B-Max Hold Trace A-Write, Trace B-Average, Trace C-Normalization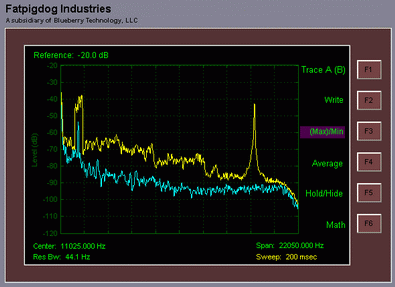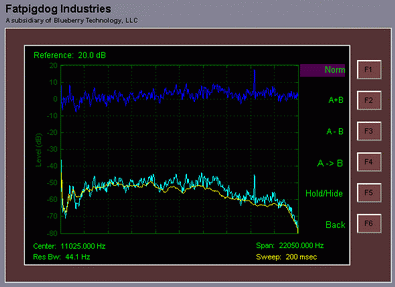 Spectrogram Plot
Frequency - Time Plot, Now there's something you don't get on the traditional spectrum analyzers (ok, maybe you do get it if you pay enough). This is great for displaying frequency histories, such as voice prints for example.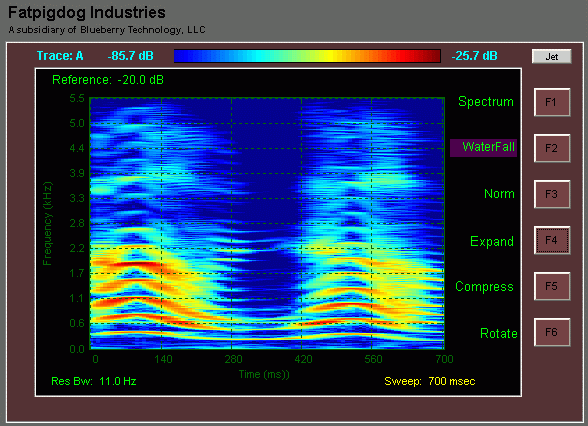 Custom

C

o

l

o

r

Maps !! Here is just a sampling:
Hot Negative Quench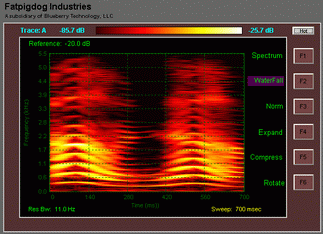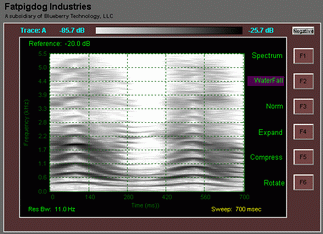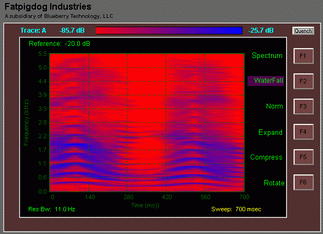 Spectrogram on Steroids !




This is what you can do with a spectrogram plot if your tricky. Download this WAVE File and listen to it. Then after you download the Real Time FFT Spectrum Analyzer, select the wave file as the input source to generate this Image Spectrogram.



Want to generate your own Image Spectrograms?

Get SpectraGen FREE Now

Click Here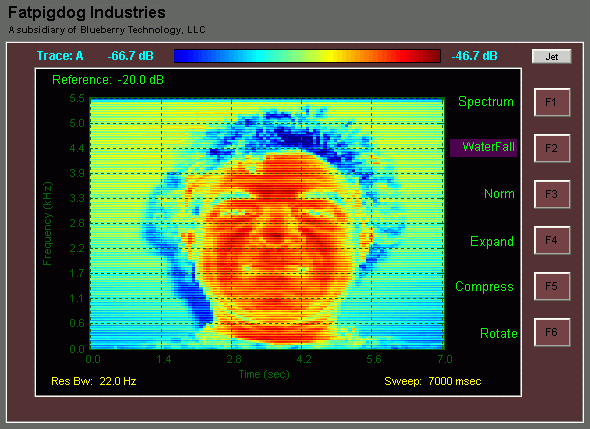 Tracking Generator

- Turning this on will make all sorts of cool chirp sounds as the Tracking Generator puts out a sweeping tone synchronized with the capture of the Spectrum Analyzer. Handy for figuring out the frequency response of rooms, coffee cups, etc.



Calibration Tone

- Just like the big boys, turning this on generates a tone at a programmable frequency. Hint ... if you have a 16 year old daughter, set the tone to 16 kHz and turn up the volume. It will drive her nuts !! (but don't do it when the wife is home, or you may be sleeping on the couch).



Input Selector

- Select between real time audio input from microphone, line-in, or playback monitor OR select file input. With file input, you browse around to your favorite .wav file. Then as the analyzer sweeps, it plays and analyzes the .wav file. If your handy with software, or you wait for me to write it, you can convert digitized RF to a wav file and analyze your captured RF signals on this very affordable, uber performance laden spectrum analyzer !!



Various Fields

- These started out as debug fields, but I figured most of you Geeks out there would want to see this info as well (I use Geek most affectionately here).

Fs

is the sample rate,

T

is the Sample interval for each sweep,

N

is the number of samples capture per sweep,

Nfft

is the number of samples that are FFT'd per sweep (Note that this number can be greater than N .... :-) ,

Nswp

is the number of samples that are displayed per sweep (and this can be larger than N too),

File

is the file that you selected as the input source if you are running in FILE Input mode,

Ptr

is a block pointer into the input file, and

FFT Overlap

is an indicator light that says that we are taking FFTs over more samples than we capture per sweep.


Fatpigdog's Real Time FFT Spectrum Analyzer - Ultra-Pro

ONLY $39.99 + FREE Shipping

After Payment through the PayPal Check out page,

you will immediately receive a Registration Code for the:

Real Time FFT Spectrum Analyzer, Ultra -Pro Version



Half Price Discount Available

(

Professors Take Note

).


Purchase 5 or more licenses and pay only $19.98 each.



*** HEY ! Click the "Like" Button for FREE Excalibur Upgrade !! ***




HOME
Other Cool web Pages
Contact me by EMAIL at:



(yes, there is a .1 in the email address !!!)


Fatpigdog & Blueberry Technology are brought to you by Spyro Gumas.

Everything here is Copyright Spyro Gumas, 2009-2013. All Rights Reserved.
Sponsor Links: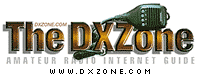 The DxZone

Visit SSS Online!

Levitation Fun!